Audio-Technica AT2020USB+ USB Recording Mic Limited Edition Blue
AT2020USB+BL
This product has been discontinued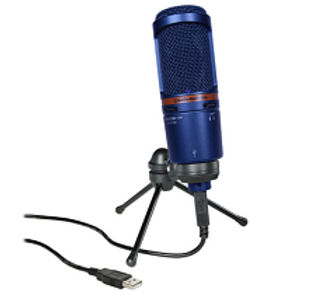 Equipped with a USB output, the AT2020USB+ limited edition blue is designed for digitally capturing music or any acoustic audio source using your favourite recording software. The microphone offers the critically acclaimed, award-winning sound of the AT2020, with studio-quality articulation and intelligibility perfect for singer/songwriters, podcasters, voice-over artists, field recorders, and home studio recorders.
Limited Edition AT2020USB+ Blue is exclusive to Australia.
The AT2020USB+ features a built-in headphone jack with volume control that allows you to directly monitor your microphone signal with no delay. It also offers mix control that blends microphone and pre-recorded audio. The microphone's cardioid pickup pattern delivers excellent off-axis rejection, while its A/D converter with a 16-bit, 44.1/48 kHz sampling rate ensures extremely articulate sound reproduction. Audio-Technica's state-of-the-art design and manufacturing techniques ensure that the microphone complies with the company's renowned consistency and reliability standards.
Features:
Condenser microphone with USB output for digital recording
High quality A/D converter with 16 bit, 44.1/48 kHz sampling rate for superb audio
Headphone jack with volume control allows you to monitor the microphone signal with no delay
Mix control allows you to blend your microphone signal and pre-recorded audio
High-output internal headphone amplifier delivers superior clarity and musical detail as well as more volume overall
Smooth, extended frequency response ideally suited for podcasting, home studio recording, field recording and voiceover use
Compatible with Windows 7, Vista, XP, 2000 and Mac OS X
Tripod desk stand with folding legs for secure and easily portable tabletop use
PC PowerPlay - Smart Buy Award
"A beautifully built studio mic that won't break the bank too much and offers crisp recording."
Music Tech Review
"The AT2020 is among the most highly regarded condenser mics in its class."
Full review
Music Radar Review
"Simple, fuss-free connection. Clear recording quality, particularly on vocals. Useful table-top tripod included."
Full review
Customer reviews
Customer questions