Rapoo V720 RGB Mechanical Gaming Keyboard Blue Switch
RP-V720
This product has been discontinued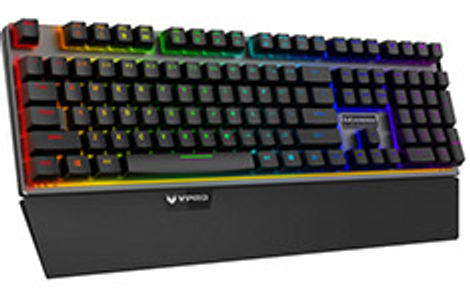 The Rapoo V720 RGB Mechanical Gaming Keyboard features blue mechanical switches, RGB backlighting, programmable keys, onboard memory profiles, N-key rollover and much more. With the core in-built gaming features, the V720 will help you dominate the gaming field, whether it be MMORPG, FPS or RTS.
RGB MECHANICAL SWITCHES.
The mechanical keys on it deliver gaming-grade responsiveness and tactile feedback superior to rubber-domed keys. With an actuation force and distance 55g (Blue Switch)2.2mm, the keys are optimised for rapid command entry. Plus, the keys have been tested for durability to a 60 million cycle life.
107 PROGRAMMABLE KEYS.
At your command. Harness the power of 107-keys to configure single key presses, complex macros or intricate LUA scripts on the fly and quickly simplify actions to stay immersed in your game and never lose a step. You can even create macros on the fly.
ONBOARD MEMORY PROFILES.
Configure your keyboard once and have it remember. Every game requires its own unique setup, be it World of Warcraft or Guild Wars 2. Program all 107 buttons across so you can bring your setup to other PCs.
GAME MODE SWITCH.
No false moves. You're about to record a record high number of perfect headshots when an accidental keystroke sends you on an unplanned and unwanted trip to your desktop. Don't let this kind of mistake ruin your streak; easily disable the Windows key with one button so your game won't be interrupted.
FN COMBINATION KEYS.
Humanised design, increase the light control function keys, game function keys and multimedia shortcut keys with FN key, easy entertainment experience.
INTELLIGENT RGB ILLUMINATION.
Customise With Over 16.8M Colours. Mark keys by colour to keep track of spells and game commands. The keys feature customisable lighting from a palette of 16.8 million colours. Each key letter is entirely illuminated for a beautiful, evenly-lit glow.
N-KEY ROLLOVER.
Keys made for gaming. Multi-key input on the it means complex moves can be executed exactly right every time. With N-key rollover, press almost any number of keys plus modifier keys (Control, Alt, Shift) in any order and get exactly what you intended.
REMOVABLE PALM REST.
Optional wrist support. You've got extra support when you need it. Or simply detach the palm rest when it's in the way.
107 KEY ANTI-GHOSTING.
Reliable Control to Take Command. Reliably register inputs through even the most strenuous gaming sessions with anti-ghosting protection.
DURABLE TILT LEGS.
Stand up under pressure. it has superior durability in all aspects¡ªand its tilt legs are no exception. The durable tilt legs provide stability and comfort even in your most intense gaming sessions.
DOUBLE-SHOT-MOLDING KEYCAP, ERGONOMIC DESIGN.
It adopts ladder type keycap arrangement, ergonomic. Cap by special process, feel comfortable, wear resistance, long service life.
Specifications:
Brand: Rapoo
Key switch: Blue Switch
Keyboard type: 107 keys Mechanical keyboard
Keyboard wire: Anti interference shielding professional five core wire.
Line length:2.0M
USB interface: Gold-plated interference
USB version: USB 1.1/2.0/3.0
Material: ABS, metal
Keystroke life: 60 million times
Keyboard size: 430 mm x 195mm x 40mm
Keyboard weight: 975g
System Requirements: Window98SE/ME/2000/XP/Vista/Win7/Win8/Win10
Customer reviews
Customer questions