ASUS ROG PG348Q UWQHD 100Hz G-Sync IPS Curved 34in Monitor
PG348Q
This product has been discontinued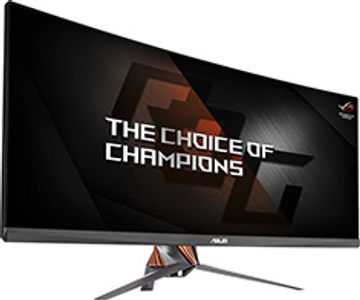 The Swift PG348Q expands your scope, allowing faster target acquisition while increasing immersive visuals with a 34-inch 3440x1440 curved ultra-wide IPS panel. Bristling with advanced display tech, the newest Swift PG348Q also features NVIDIA G-SYNC technology for smooth and seamless gameplay, while simultaneously sporting a 100Hz refresh rate, eliminating roadblocks between your skill and victory. Add the armoured design, unique ASUS features, VESA 100mm support and an adjustable stand and you're looking at a monitor that is truly unrivalled.
KitGuru
"IPS? Check. Ultra-wide display? Check. G-Sync up to 100Hz? Check! All the ingredients are here for a great ultra-wide 21:9 gaming display. The Asus ROG Swift PG348Q is a stunning panel, but it is a pricey prospect."
Full review
Overlock3d.net
"Sell your kidneys, your grandmother, your first born. The ASUS PG348Q ROG Swift is so fantastic you'll wonder how you ever gamed without it and it easily wins our OC3D Gold Award. It would win our Aesthetic Award if we had such a thing, and we still might make one just because it's so bloody gorgeous."
Full review
Please note:
Turbo key is supported by NVIDIA Game Ready Drivers version 391.35 and below only. Refresh rate can still be set to 100Hz manually prior to launching a game. See
here
for more information.
Customer reviews
Customer questions