Vertagear Racing S-Line SL2000 Gaming Chair White Blue
VG-SL2000_WBL
This product has been discontinued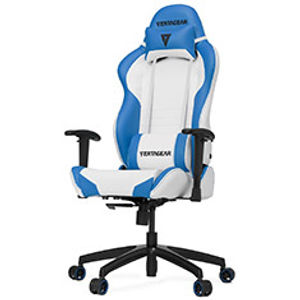 On sale! (normally $399)
Introducing the Vertagear Racing S-Line SL2000 Gaming Chair. Game in style for long periods of time and remain incredibly comfortable - made from high quality PVC leather with stain and water resistant characteristics, the SL2000 has a dense foam padding that adds great support. Featuring additional lumbar and neck support, the SL2000 also reclines to a generous 170 degree angle to suit any setup. Slide across the office or study floor with the formulated soft-glide wheels, and be supported by the stable, 5 star aluminium alloy base that keeps the chair solid and lightweight. Using the adjustable armrest, customise the positioning of your chair to any setting you prefer to alleviate pressure and muscle strain. The Vertagear SL2000 can handle up to 150kg and is backed by a 2 year Vertagear warranty.
Benchmark Reviews
"For the past week I've sat in the Vertagear SL2000 gaming chair for up to eight hours each day, and not once have I got out of the chair sore or aching. The Vertagear chair is meant for gaming, but I spend much more time at the office these days… and the people I work with don't have sports cars they can park behind their desk. It's worth every bit of my comfort, and their envy."
Full review
Legit Reviews
"With a chair that reclines 170 degrees you could easily sleep in this chair at an overnight LAN party and say goodbye to sleeping on the floor! Chair comfort is highly subjective, but we found this one to be acceptable!"
Full review
Customer reviews
Customer questions