CableMod C-Series RMi / RMx Cable Kit White
CM-CSR-FKIT-KW-R
This product has been discontinued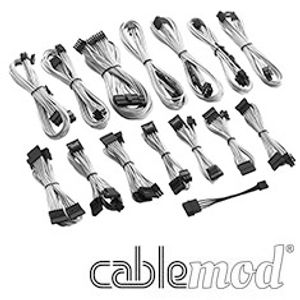 On sale! (normally $129)
Made from premium materials and crafted with the utmost care, CableMod cables can turn even the most ordinary systems into works of art. Made with input from the modding and PC enthusiast community, this premium cable kit is a full replacement set compatible with Corsair RMi & RMx power supplies. Featuring CableMod's signature ModFlex Sleeving, these cables not only look great, but are extremely flexible and easy to work with.
New to the Corsair RMi and RMx power supplies are small capacitors on the 24-pin ATX, 4+4 pin EPS, and PCI-e cables that enhance voltage regulation and ripple suppression. CableMod smartly places these components on the cables so that they are hidden behind your motherboard tray, maintaining a clean and heatshrink-free look for your rig. What's more, CableMod uses high-quality, 100% solid-state capacitors for peak performance and reliability.
Compared to sleeved extensions, these cable kits don't add extra unnecessary length to your cables, which means less cable to manage inside your build. Available in a wide range of colors, you're sure to find a CableMod set that's perfect for your rig.
Note:
Please check the CableMod compatibility page to confirm if this will be suitable for your power supply
here
.
Here's what you get inside the box:
1 x 24 Pin ATX Cable (600mm)
2 x 4+4 Pin EPS Cable (700mm)
2 x Dual 6+2 Pin PCI-e Cable (750mm)
2 x 6+2 Pin PCI-e Cable (600mm)
1 x Quad SATA Power Cable (850mm)
1 x Quad SATA Power Cable (700mm)
2 x Dual SATA Power Cable (500mm)
1 x Triple 4-Pin Molex Cable (750mm)
2 x Dual 4-Pin Molex Cable (500mm)
1 x Molex to Floppy Adapter (100mm)
Customer reviews
Customer questions