Logitech K480 Multi-Device Bluetooth Keyboard Black
920-006380
This product has been discontinued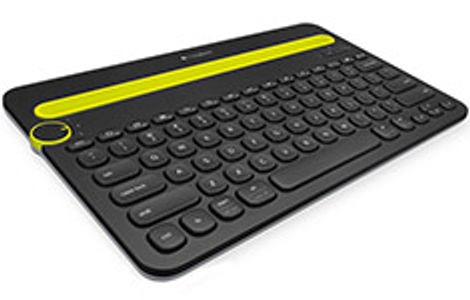 On sale! (normally $59)
The Logitech K480 is a universal wireless desk keyboard for your computer, tablet and smartphone. The integrated cradle holds your phone or tablet at the perfect angle while you read and type, and you can switch between three connected Bluetooth wireless devices with the Easy-Switch dial. Compatible with Windows, Mac, Android and iOS, the K480 comes with shortcut keys for all devices and operating systems. Backed by a 1 year Logitech warranty.
Wired Review
"... the K480 is a keyboard worth looking at if you're in the market for one capable of connecting to multiple devices. Its quick setup process, OS versatility, and modest price all make it an appealing purchase."
Full review
Anandtech Review
"The Bluetooth keyboard market for mobile devices is heavily commoditized. So, it is refreshing to see Logitech integrating some nifty and interesting features in the K480 to make it stand out in the crowd."
Full review
Customer reviews
Customer questions