Audioengine B2 Bluetooth Speaker Walnut
AE-B2-WN
This product has been discontinued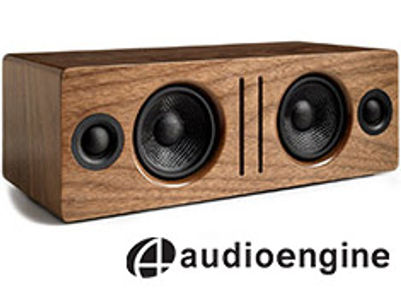 The Audioengine B2 Bluetooth Speaker allows you to wirelessly stream all your music from any bluetooth-enabled smartphone, computer, or tablet. Experience award-winning Audioengine sound, including a hand-built wood cabinet, Bluetooth aptX coding and extended wireless range.
Forbes Review
"Audioengine's B2 Bluetooth speaker sounds as good as it looks. It's as simple as that. It plays loud, is simple yet attractive, and has some great touches that make it one of the best BT speakers going."
Full review
Overclock.net Review
"To wrap it up, the Audioengine B2 is a great little speaker. It is very easy to use, delivers room filling sound, looks great, and doesn't sacrifice on quality. "
Full review
TUAW Review
"It has a solid stereo sound that would be great for a bedroom or an office desk. It's very well built. I always test the volume controls on audio equipment to see if they feel solid, and the Audioengine is obviously a high quality unit. "
Full review
Laptop Memo Review
"...it's an excellent Bluetooth desktop speaker that saves space on a desk in an office, or in a room's night stand. Thus, totally worth it."
Full review
My Mac Review
"B2 has excellent sound throughout its massive volume range, which is the test of a high quality speaker system. Lower levels are ideal for casual or background listening. Medium levels are perfect for enjoying fine music. "
Full review
Customer reviews
Customer questions