SteelSeries Siberia V2 Diablo III Reaper of Souls Gaming Headset
SS-57002
This product has been discontinued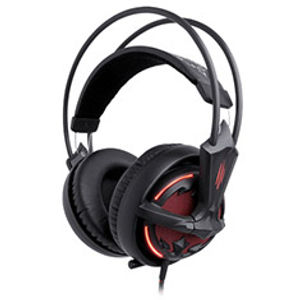 SteelSeries Siberia V2 Diablo III Reaper of Souls Gaming Headset
SS-57002
The SteelSeries Diablo III Headset was designed to optimise the sounds reproduced through its 50mm driver units - from incredibly high shrills to low bass tones that are consistently played throughout the game. Its lightweight, over-the-head suspension provides long-lasting comfort while the noise-cancelling, leather earcups keeps the world out and the game sounds in. The headset has a matte-black finish with a unique, knot-work design on the headband. The "demon red" illumination can be seen on each earcup offering players 4 levels of pulsation options (including off). The headset also includes a uni-directional retractable microphone-system and in-line volume and mute controls.
Legit Reviews
"Its counterpart, the headset, is also made of quality parts, is comfortable to wear and has great quality sound that just can't be beat. The LED trigger pulse illumination, along with the graphic designs, makes this headset look absolutely awesome as well."
Full review
Hardware Heaven
"An impressive set of gaming gear from SteelSeries. Each item performs exceptionally well and the Diablo 3 based styling with red LEDs looks great."
Full review