SteelSeries H Wireless Multi-Platform Headset [61298]
SS-61298
This product has been discontinued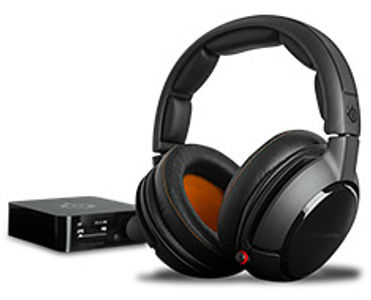 The SteelSeries H Wireless delivers professional audio without compromise. The headset is lag free, low latency, and features three Dolby surround sound technologies. H Wireless works on virtually all platforms.
H Wireless is the first gaming headset with an OLED display used to visually monitor all audio, wireless, configuration, and system settings. Most commonly used settings can be adjusted remotely from the headset. H Wireless contains a headset, transmitter, and all cables needed for connection to your PC, Xbox, Playstation, Mac, media centers, home theater equipment, and mobile devices. H Wireless also comes with two hot-swappable Lithium-Ion batteries for limitless play time.
Gizorama Review
"The SteelSeries H Wireless Headset is the definition of quality and is hands down the best headset I have put on my ears yet."
Full review
Booredatwork Review
"Talk about knocking it out of the park"
Full review
Playstation Lifestyle Review
"Overall, the H Series by SteelSeries is a great headset that is truly wireless"
Full review
Customer reviews
Customer questions