PrimoFlex Pro LRT Tubing White 1/2ID 3/4OD 10ft Retail
PFLEXP10-34-W-RETAIL
This product has been discontinued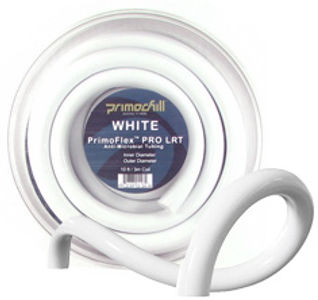 On sale! (normally $25)
1/2" ID, 3/4" OD tubing with a 1/8" thick wall. A single 10ft (3m) length, fittings not included. PrimoChill's PrimoFlex Pro LRT tubing is designed and manufactured to exacting standards for today's high performance PC water cooling systems. Low Radius Technology allows for tighter bends without the kinking that can cause cooling failures or reduce performance. PrimoChill's special Anti-Microbial formula helps keep your cooling loop pristine; which keeps flow rates up, reduces maintenance, and just flat out looks better.
PrimoFlex Pro LRT wouldn't be the choice of pro modders and high performance water coolers if it also didn't have killer looks and excellent sub zero performance. PrimoFlex Pro LRT stays flexible even when subjected to the lowest temperatures.
Features:
Low Radius Technology for superior bend angles with less kinking.
Excellent low temperature performance
Anti-Microbial
Low friction inner bore
No unsightly printing on the tubing
Specifications:
Colour: White
Inner Diameter: 1/2" - 12.7mm
Outer Diameter: 3/4" - 19.05mm
Wall Thickness: 1/8" - 3.17mm
No fittings included.
Customer reviews
Customer questions