Audioengine A5+ Premium Powered Speakers Black
AE-A5+B
This product has been discontinued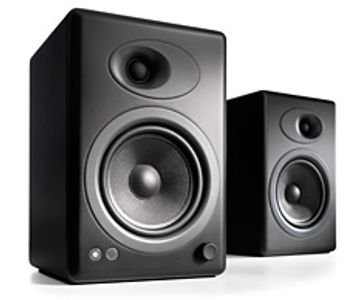 With custom Kevlar woofers, silk dome tweeters, and hand-built cabinets, the Audioengine 5+ includes a remote control, dual audio inputs and enhanced thermal management. You can charge your MP3 player via the USB power port and also add an S8 subwoofer to the variable output. Connect Audioengine 5+ to your computer's headphone jack or pair with a USB DAC to achieve an even higher level of sound quality. The Audioengine 5+ works with any computer and there's no software to install or settings to change. Backed by a 3 year Audioengine warranty.
CNet - Editors Choice
"Once again the bottom line here is that you're going to be hard-pressed to find a 2.0 system that sounds better for the money and has the 5+'s connectivity options"
Full review
WIRED
"Rich, detailed, room-filling sound that bests speakers costing twice as much."
Full review
What HIFI
"The A5+ speakers are light on their feet, sound subtle and boast impressive dynamics. Their sonic scale is striking for the money, happily filling our room better than similarly sized iPod docks."
Full review
HDTV Magazine
"We were amazed at how good the low end sounded on the original A5. The new A5+ keeps that great bass but cleans it up a bit. If you like the deep bombastic lows, like I (Ara) do, you will love these speakers!"
Full review
Customer reviews
Customer questions