TP-Link TL-WN821N Wireless N USB Adapter
TL-WN821N
This product has been discontinued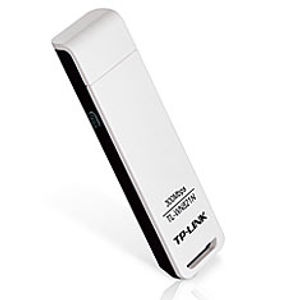 The TL-WN821N Wireless N USB Adapter delivers exceptional quality to HD streaming, video calls and demanding online gaming, by providing consistent and stable transmission speeds of up to 300Mbps. By prioritising high bandwidth intensive applications and utilising MIMO (multiple input/multiple output antennas) technology, the Wireless N USB adapter uses internal antennas to manage its ability to transmit signals through obstacles and long distances.
At the same time, CCA technology automatically avoids channel conflicts using its channel selection feature. This product supports 64/128-bit WEP encryptions, as well as WPA/WPA2 and WPA-PSK/WPA2-PSK encryptions and mechanisms.
In addition to the adapter's QSS (Quick Secure Setup) feature, the Wireless N USB adapter allows users to quickly and easily setup wireless security. It also works well with other 11g and 11n protocol wireless products.
Features:
Provides two methods of operation: Infrastructure and Ad-Hoc
Complies with IEEE 802.11n, IEEE 802.11g, and IEEE 802.11b standards.
Quick Secure Setup
Supports 64/128-bit WEP, complies with 128 bit WPA standard(TKIP/AES),
Simple configuration and monitoring
Supports Roaming technology, guaranteeing efficient wireless connections
Customer reviews
Customer questions