HTC Vive Focus VR Headset Unit White
99HANV024-00
This product has been discontinued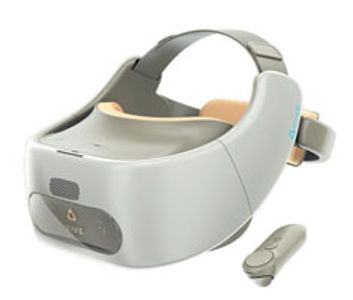 On sale! (normally $769)
VIVE Focus is the simple all-in-one solution for enterprise. Enjoy instant wireless VR with high-resolution 3K AMOLED screens, Qualcomm Snapdragon 835 processing, and world-scale tracking right out of the box. No tethered PC, base stations, or sensors required. Sometimes in VR, less is more.
A PREMIUM WIRELESS EXPERIENCE OUT OF THE BOX
When we say VIVE Focus is ready out of the box, we mean it. No tethered PC required. No external base stations or sensors needed. Just instant wireless VR with high-resolution 3K AMOLED screens and Qualcomm® Snapdragon™ 835 processing.
UNCOMPLICATE VR IN KIOSK MODE
Sometimes in VR, less is more. When you enable Kiosk Mode on the VIVE Focus, it limits access to apps, navigation, and the back end, turning the system into a portable, powerful fixed-purpose device. The result: A user-friendly virtual reality experience for trainees, customers, and leads that focuses on what matters most—the content.
A MORE AFFORDABLE ENTRY POINT
The VIVE Pro Full Kit, our signature professional-grade VR system, is a veritable powerhouse, offering best-in-class graphics, sound, and expansive room-scale tracking. That said, we also understand it's a large investment on your behalf. If you're not quite ready to dive into the world of enterprise VR, the VIVE Focus is perfect for wading in
INSIDE-OUT, 6DOF TRACKING
The VIVE Focus will take you far in the virtual world. Featuring innovative world-scale tracking, a 110° field of view, and proximity sensors, users will enjoy a freeing, intuitive experience with no wires, no sensors, no host PC to hold them back.
DAZZLING 3K AMOLED SCREENS
With it comes other standalone devices and graphics, there are trade-offs, Not the VIVE Focus. From first sight, you'll be treated to high-resolution 2880 x 1660 screens and clarity on par with professional-grade VR systems.
MAKE ANY ROOM OR SPACE A VIRTUAL STAGE
Pressed for space? The VIVE Focus effectively turns the world into an immersive virtual stage, offering positional tracking anywhere, any time; indoors or out. Plus, with no need for a VR-ready computer, base stations, or sensors, you can always find room for Focus
Customer reviews
Customer questions