Winstar Networking Audio and Video Adapter
WS-UG12N1
This product has been discontinued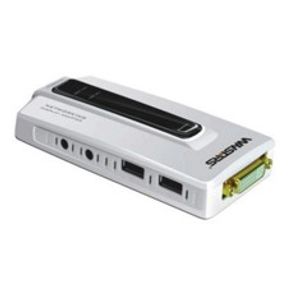 On sale! (normally $99)
The Network A/V Adapter over Ethernet Adapter enables you easily to connect monitor and projector from a computer. You may perform a high quality presentation and DVD video by high throughput of Ethernet and have the content of your PC get access remotely. The display stations can be up 100 meters away from your computer with LAN cable.
Video and Audio applications on CRT, LCD monitor or projector shared through Ethernet port.
Extend or mirror video through a network to a DVI display and Audio.
Compatible with Ethernet and USB 1.1/2.0 specification.
Provide 2 x USB 2.0 ports, can connect to keyboard, mouse or other USB Devices.
Controls up to six DVI displays from a single computer.
Display remote control.
Supports primary display, mirror desktop, and extended desktop video modes.
Stream and share High Definition multimedia content over standard configured network.
Intuitive interface for easy configuration and monitoring.
Long transmission distance up to 100 meters.
Customer reviews
Customer questions