Brateck LDT06-C03 Three LCD Desk Mounts/Clamp VESA 75/100mm
LDT06-C03
This product has been discontinued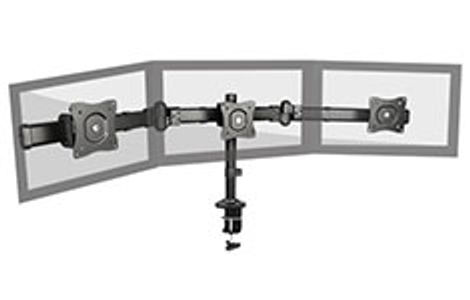 Brateck LDT06-C03 Three LCD Desk Mounts/Clamp VESA 75/100mm
LDT06-C03
The LDT06-C03 is a family of elegant steel LCD VESA desk mounts for 13-27in monitors. This mount is an extremely durable mounting solution which provides superior ergonomic viewing and no-fuss, space saving operation. It can support three monitors in horizontal line and the weight capability for each one is 8kgs. It can rotate for 360 degrees, which allows portrait and landscape viewing. It also allows smooth, effortless tilt motion for any direction, making it easy to reduce glare and find the perfect viewing angle. You can also adjust the monitor vertically to a desired position.
Features:
Monitor height can be fine-tuned by turing the adjustment knob
Cable clips keep cables organized and protected
Available for freely adjusting height without tools
360 degree rotate and +30~-30 degrees tilt VESA plate design
Note:
The stand will not allow for outer screens to be angled inwards when using with screens larger than 24inch in landscape configuration. Due to the size of the monitors they can only be used in a straight line for monitors over 24inches in landscape configuration.