Topre Type Heaven 104-key Keyboard
ZA0100
This product has been discontinued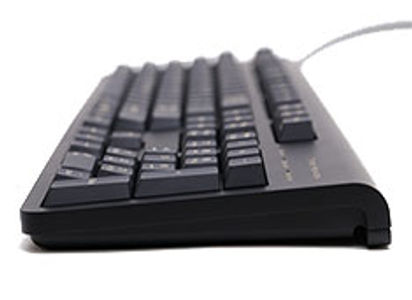 Promotional price - save $30, normally $199, strictly while stocks last!
Type Heaven is the latest keyboard offering from Topre; and the first to bring their renowned Electrostatic Capacitive Switches at such an attainable price point. No flashing lights and sideshow features; the Type Heaven is purely a touch-typist's keyboard made for endless days and nights of typing and offers the same excellent build quality and silky-smooth keystroke of Topre's Realforce boards, but at considerably lower price.
Type Heaven boards employ the same unique high-reliability electrostatic capacitive switches of Topre keyboards manufactured for high-availability applications in banks, airports, and other critical environments. Topre capacitive key switches are a patented hybrid between a mechanical spring based switch, a rubber dome switch, and a capacitive sensor which, combined, provide tactility, comfort, and excellent durability. The unique electrostatic design of Topre switches requires no physical mechanical coupling and therefore key switch bounce/chatter is eliminated.
Black Keyboard with Gold Lasered US/English Legends
45 gram weighted 4mm keystroke travel Topre Electrostatic Capacitive Key Switches (50 million keystroke lifetime)
6-key rollover; no-ghosting typing or gaming
USB Interface (Cable Length: 1.5m; non-detachable)
Designed in Japan
1 year Topre warranty
Tweaktown
"With this, it is a no frills tool of speed that has improved my game, and there is no reason in my mind why the Topre Type Heaven should not be heavily considered for anyone who considers themselves an avid typist."
Full review
Customer reviews
Customer questions