Blue Microphones Snowball USB Microphone Neon Blue
3015-SNOWBALL-BLUE
This product has been discontinued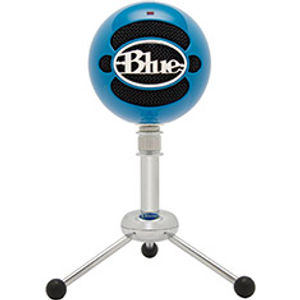 Create studio-quality recordings with Blue Microphone's Snowball, a USB microphone with exceptional sound-capture capabilities. Using Blue Microphone's award-winning dual-capsule and circuit design, the Snowball produces crisp, clean recordings that are free of feedback and distortion. A unique pattern switch allows you to toggle between three different settings, giving you the flexibility to record vocals, instrumental music, podcasts, interviews, and more. With a plug-and-play design that is both Mac and PC compatible, the Snowball requires no additional drivers and is ready to record straight out of the box.
With a visual design inspired by classic recording equipment, the Snowball's stylish, retro aesthetic will complement any computer system. Its metal grille and black frame recall the look of old-timey microphones. The Snowball comes with an adjustable tripod that lets you position the microphone in relation to the sound source, improving sound quality. It also features an LED indicator, which glows red when the microphone is powered.
A stand and USB cable are included, so all you need to start recording is Blue's Snowball and your computer.
CNET
"Blue Microphone's Snowball USB mic is a swanky-looking and sonically competent microphone that deserves the attention of every budding podcaster and amateur musician."
Full review
Expert Reviews
"In our tests, audio quality from the Snowball was excellent. Speech was crisp and clear, our acoustic guitar test reproduced every string pick and fret buzz, and background hum was non-existent."
Full review
Customer reviews
Customer questions