Rapoo S200 Bluetooth Stereo Headset Black
RP-S200-BK
This product has been discontinued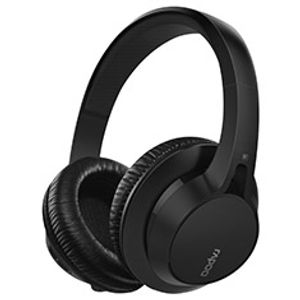 Sit back, relax, and enjoy the music. The S200 over-ear headset fits like a glove and is equipped with the latest Bluetooth 4.1 technology. This technology transfers crystal-clear audio signals with a range of up to 10m, 360 degree coverage, faster data-transfer rate, and lower power consumption than previously. The integrated omnidirectional microphone is concealed in the headset casing, yet offers incredible voice quality. The S200 offers up to 20 hours of uninterrupted listening pleasure – and if the battery ever runs out of juice, simply hook up the cable and continue enjoying the music. Thanks to the shape of the ear cushions and the materials used, the S200's ingenious over-ear design is ultra-effective at shielding out background noise, delivering improved sound quality.
Bluetooth 4.1
You can enjoy high-quality stereo audio by connecting to Bluetooth-enabled devices, like your smartphone, tablet or PC.
Built-in rechargeable lithium battery
The device can last up to 20 hours of usage, with the just 3 hours of charging time.
Wired and wireless modes
The device also works in wired mode by connecting the audio-USB cable. Useful when you run out of power. An empty battery will never stop you now.
Excellent voice-calling quality
The hidden omni-directional microphone will automatically pick up your voice with remarkable clarity and support voice calls function.
Multi-point Technology
The headset works and connects 2 devices simultaneously.
Customer reviews
Customer questions