Be Quiet! Silent Base 800 Case with Window Red
BGW04
This product has been discontinued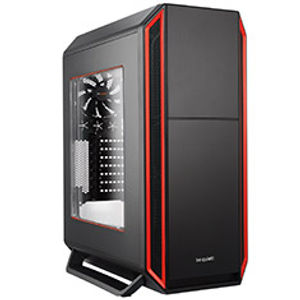 The Be Quiet! Silent Base 800 offers the perfect symbiosis of noise prevention and cooling performance, a good usability and an extensive capacity for high-end hardware. The case comes equipped with a double-layered window side panel made from a scratch and impact resistant polycarbonate, allowing you to display your setup in style. It features a tool free design, professional cable management, three pre-installed Be Quiet! Pure Wings 2 fans that are decoupled from the case to move heat out with a minimum of vibration and the quietest possible operation, ample space and cut outs are provided for high-end components with support for graphics cards up to 290mm or 400mm without the hard drive cage, CPU coolers up to 170mm and PSU up to 290mm. Backed by a 3 year Be Quiet! warranty.
TechPowerUp Review
"be quiet! has taken a look at what is possible before refining everything to meet their standards. The result is a capable chassis without any major flaws. Worthy of the be quiet! brand, it also comes at an enticing price and with the quality you have come to expect."
Full review
KitGuru Review
"A solid piece of work from be quiet! that delivers good results at a price that doesn't break the bank."
Full review
EGN
"In all, be quiet! have come out with a stunning design that blends function with utility. Encompassing a purposeful design both inside and out, whilst remaining appealing to the eye isn't an easy feat. "
Full review
Customer reviews
Customer questions