Audio-Technica ATH-W5000 Dynamic Wooden Headphones
ATH-W5000
This product has been discontinued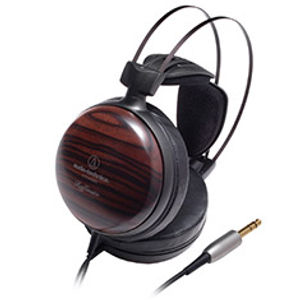 Lose yourself in the experience of amazingly rich, high-fidelity sound. Equipped with striped ebony housing for superb acoustic characteristics, the Audio-Technica ATH-W5000 dynamic headphones achieve new levels of audiophile sound quality and listening comfort. These stellar headphones deliver formidable power, ultra-comfortable fit and stunning design.
Features:
Striped ebony housing provides superb acoustic characteristics
Ear pads cushioned in leather feature A-T's ultra-comfortable total ear fitting design
53 mm drivers (equipped with neodymium magnet systems) designed exclusively for the W5000
Driver unit incorporates a Permendur magnetic circuit with exceptional magnetic characteristics
High-quality 8N-OFC (oxygen free copper) voice coils for ultra-efficient signal transfer
Lightweight magnesium alloy frame
Double Air Damping System for deep bass reproduction
3D Wing Support provides stable, comfortable fit
Y-cable features an elastomer sheath that helps prevent tangles
Includes padded, protective hard-shell case for safe, convenient storage
Gold-plated 6.3 mm stereo connector provides exceptional corrosion resistance, superb conductivity, low noise
CNET
"From dance to metal, folk to pop, rock to Balinese gamelan, these cans shine with their relentless detail, wide soundstage and clarity."
Full review
Customer reviews
Customer questions