Sennheiser PC 333D Surround Sound Gaming Headset
PC333D
This product has been discontinued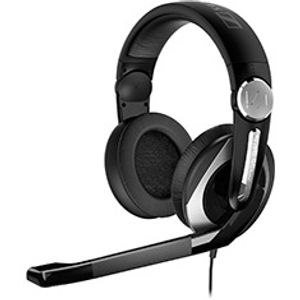 On sale! (normally $199)
The Sennheiser PC 333D surround sound gaming headset is your gateway to a realistic 7.1-multichannel game sound experience. Specifically designed for immersive gaming, this headset lets you pinpoint opponents with laser-like precision. The PC 333D puts you in the centre of the action.
Hardware Heaven
"The PC 333D G4ME is ideal for gamers on midrange budget that want 7.1 audio. It offers great sound quality for a great price."
Full review
Tech Guide
"While the Sennheiser PC333D Headset had been designed with gamers in mind, it also has plenty to offer non-gamers who want to enjoy high quality audio or chatting with loved ones online."
Full review
Customer reviews
Customer questions