Edifier Luna Eclipse 2.0 Bluetooth Speakers Black
E25-BLACK
This product has been discontinued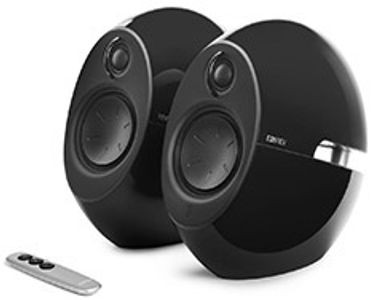 The Edifier Luna Ecliipse Bluetooth Speakers feature a wireless remote and Bluetooth pairing capability with all Bluetooth enabled devices. Each of Luna Eclipse's satellites is equipped with a 3/4in silk-domed tweeter and a 3in full-range bass driver, together producing an impressive 74 watts RMS. This Bluetooth speaker also contains two 3in passive bass radiators, maximising the bass performance.
KitGuru
"An elegant set of speakers which offer great sound quality."
Full review
Gizmodo
"Edifier's little PC speakers put out a surprising amount of power for their size; by virtue of being quite tall and they have the internal volume to make enough bass and move enough air to sound good."
Full review
Digital Trends
"The e25 offer more value than any multimedia speaker we've heard in the last five years and are an absolute win for Edifier."
Full review
Customer reviews
Customer questions