Das Keyboard Division Zero X40 Gaming Mechanical Linear
DKDIVZX40LNR
This product has been discontinued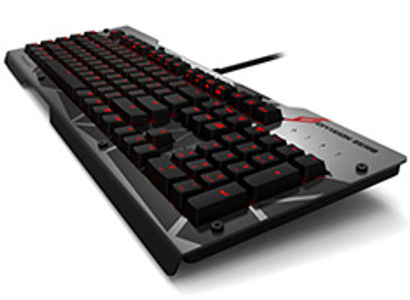 On sale! (normally $229, strictly while stocks last!)
Introducing Division Zero, Das Keyboard's newest gaming line for Pro Gamers. The Division Zero X40 is a pro gaming mechanical keyboard equipped with new Alpha-Zulu Gaming switches specifically designed for gamers with gold contacts for gaming grade durability and speed. The X40 is also equipped with red LED backlighting, customisable metal top panels, macro keys, and full n-key rollover to take the gaming experience to the next level.
The X40 Linear is perfect for gamers who need to communicate with teammates and pay attention to every detail of gaming. Constructed for games such as CS:GO, DOTA2, Heroes of the Storm, and League of Legends where uninterrupted communication will often determine the outcome of the game.
The switch itself is a non-tactile stealth type, meaning that no matter how often or hard you game, there will be no sound interference with communication or the game. On top of being one of the stealthiest keyboards, the X40 Linear provides one of the fastest response times and actuation in the keyboard world.
Customer reviews
Customer questions