Vertagear Racing S-Line SL4000 Gaming Chair White/Green
VG-SL4000_WG
This product has been discontinued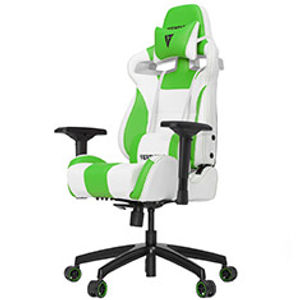 Introducing the Vertagear Racing S-Line SL4000 Gaming Chair. Game in style for long periods of time and remain incredibly comfortable - made from high quality PVC leather with stain and water resistant characteristics, the SL4000 has a dense foam padding that adds great support. Featuring additional lumbar and neck support, the SL4000 also reclines to a generous 170 degree angle to suit any setup. Slide across the office or study floor with the formulated soft-glide wheels, and be supported by the stable, 5 star aluminium alloy base that keeps the chair solid and lightweight. Using the adjustable armrest, customise the positioning of your chair to any setting you prefer to alleviate pressure and muscle strain. The Vertagear SL4000 can handle up to 150kg and is backed by a 2 year Vertagear warranty.
Overclock3d Reviews
"With a Steel frame and High density foam support material covered in PVC leather the SL4000 is a sturdy and hard wearing beast."
Full review
PC Gameware Reviews
"The Vertagear Racing Series S-Line SL4000 Gaming Chair is a superb chair to kick off our first review of this genre, it was easy to construct, well designed and damn right comfortable."
Full review
Customer reviews
Customer questions