Audio-Technica ATH-M50X Professional Studio Headphones Grey
ATH-M50X-MG
This product has been discontinued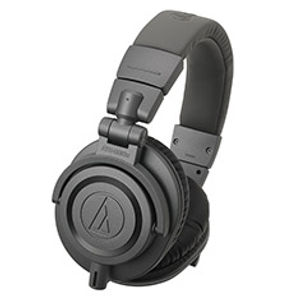 The high-performance ATH-M50x professional headphones are tuned flat for incredibly accurate audio monitoring across an extended frequency range. Your studio experience is enhanced with superior sound isolation and swiveling earcups for convenient one-ear monitoring. Engineered with pro-grade materials and robust construction, the M50x excels in professional studio tracking and mixing, as well as DJ monitoring. The ATH-M50X also feature detachable cables.
Gadget Mac Review
"On that note, we came away utterly impressed by Audio Technica's newest pair of over-ear headphones. There's just nothing bad that I can say about the M50x. They're brilliant."
Full review
Music Tech Review
"They take what some see as an industry standard up a notch. These headphones are among the best headphones you can get for your studio."
Full review
Sound Guys Review
"I can honestly see why these headphones are rated so highly. The style, comfort, and overall great sound is what makes these headphones a great buy."
Full review
Customer reviews
Customer questions