Nanoxia Rigid LED Strip 30cm White
NX-RIGIDW
This product has been discontinued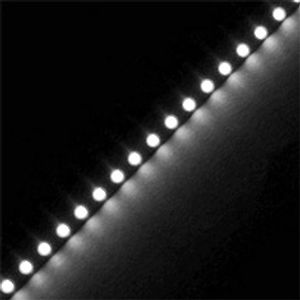 The Nanoxia Rigid LED bars offer you a particularly stylish and high-quality upgrade for your PC. This LED bar is 30 cm in length and consists of 27 ultra- bright LEDs. For production Nanoxia has ensured advance that only components of the highest quality, in accordance with industrial standards, are used. The SMD5050 high-end LEDs used are especially bright and develop an impressive luminosity.
Nanoxia Rigid LED bars come with a 3-Pin Molex connector for the power supply; This makes connecting them to a power supply as simple as possible. The Rigid LED bars are also easily dimmable - for example, you can connect the bars to a fan control of your case and make use of the wide control range of the LED strips (approx. 7 – 12 Volt). This feature gives you more flexibility when selecting the amount of brightness for your own system design.
Included are adhesive stripes which allow a very easy installation of the Rigid LED strips. Each rigid LED strip has been tested during and after production. Only bars that generate 100% full illumination are made available.
Customer reviews
Customer questions