EK RES X3 150 Lite
3831109843208
This product has been discontinued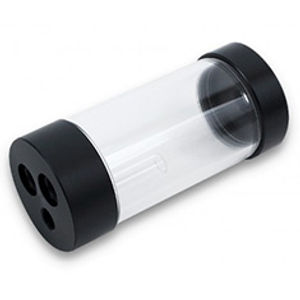 The EK-RES X3 250 Lite is a cylindrical standalone reservoir, manufactured from premium quality 60mm acrylic tube and POM Acetal end caps in black colour. Sealed by quality EPDM rubber washers.
Technical data:
Installation height: 150mm
Diameter: 60mm
Capacity: ~240ml
Weight: 265g
Package contents:
EK-RES X3 150 Lite
Pair of EK reservoir holders with mounting screws
EK-AF Extender Revo Dual D5 Add on
2 × G1/4 extenders
2 × G1/4 Plugs
1 × 6mm Allen key for plugs
1 × 2.5mm allen key for reservoir holders
1 × polyether anti-cyclon foam
This unit is primarily made to be paired with the EK-XTOP Revo Dual D5, but can also be used as a standalone reservoir.
Customer reviews
Customer questions