Audio-Technica ATH-MSR7-GM Premium Hi-Res Headphones Gun Metal
ATH-MSR7-GM
This product has been discontinued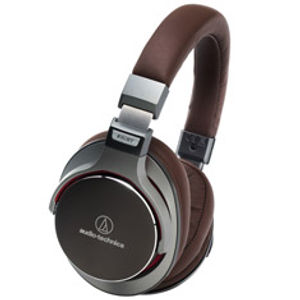 The Audio-Technica ATH-MSR7-GM Premium Over-Ear High-Resolution Audio Headphones are designed to reproduce superior audio, so you can hear music the way it was intended. The over-ear headphones are outfitted with exclusive 45mm True Motion Drivers, which utilize lightweight voice coils and minimize sound distortion for rich, detailed audio reproduction. The ultra-comfortable, memory foam earpads form to the shape of your ear and reduce unwanted resonance. Three precisely placed vents within these ear cup work to control air flow and improve dynamics.
Features:
Three detachable cables: 1.2m and 3.0m cables including a 1.2m smartphone-compatible cable with in-line controls & mic
Stainless steel acoustic mesh resistor provides improved high-frequency response, while bass acoustic resistor delivers accurate low-frequency response
Includes carrying case
CNet Review
"The Audio-Technica ATH-MSR7 is a great-sounding headphone with the one caveat that it offers such impressive detail that it not only brings out the best in recordings but also the worst. But if you are detail hound, it's a delight."
Full review
Trusted Reviews
"The Audio-Technica ATH-MSR7 are among the best headphones ever released. While the claims of being all about Hi-Res Audio are largely marketing speak, they get you pure sound quality that quite simply outdoes what you get from the bigger names."
Full review
Customer reviews
Customer questions