Audio-Technica ATH-ADG1X Open Air Gaming Headset
ATH-ADG1X
This product has been discontinued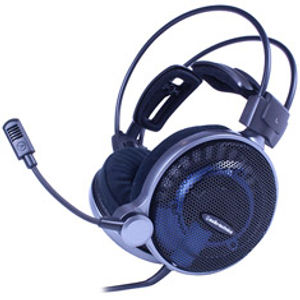 On sale! (normally $299)
The new ADG1X high-fidelity gaming headset is Audio-Technica's next step in open-air gaming. The headset features high-end 53mm drivers coupled with a signature open-air design. The ADG1X takes all of the features from the multi award winning ADG1 - offering an increased range, improved weight distribution and increased ear cup size for the ultimate comfort during long gaming sessions. The ADG1X allows for in-game voice communication through its high-end microphone and includes a wind muff to help reduce noise - The ADG1X is perfect for communicating with your team to dominate your game.
Features:
Advanced 53mm drivers provide excellent sound-scape and accurate sound reproduction
Improved 3D wing support system offers hours of comfort and a secure fit
Extremely soft earpads with additional cushioning provide superior comfort for extended game play
Equipped with a 1.2 m attached cable and 2.0 m extension cable
Double air damping system (D.A.D.S.) delivers deep, resonating bass
Built-in volume and mute controller for convenient audio control
Compatible with PS4, iPad, iPhone, laptops & PC. Also compatible with Xbox One using the Xbox One Stereo Headset Adapter.
Customer reviews
Customer questions