Noctua NH-C14S Multi Socket CPU Cooler
NH-C14S
This product has been discontinued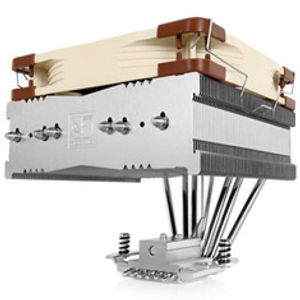 Successor to the award-winning NH-C14, the Noctua NH-C14S Multi Socket CPU Cooler is an elite class top-flow cooler that is extremely efficient, highly compatible and remarkably adjustable. With the fan installed on top of the fins, the cooler is compatible with RAM modules of up to 70mm height. With the fan installed underneath the fins, the total height of the cooler is only 115mm. The new offset layout allows it to clear the top PCIe slot on most Micro ATX and ATX motherboards. Topped off with the trusted, pro-grade SecuFirm2 multi-socket mounting system and Noctua's proven NT-H1 thermal compound, the NH-C14S is a premium quality top-flow solution for the highest demands. Backed by a 6 year Noctua warranty.
Hi-Tech Legion Reviews
"It also gives up nothing in terms of build quality, sporting the same flawless fit and finish we have come to expect from Noctua products and what is arguably the best mounting kit on the market. While a builder typically has to make certain concessions when using a larger air cooler, the only concession made with the NH-C14S is lack of trouble caused by component interference. The NH-C14S simply provides excellent performance with great compatibility and low noise, essentially the SFF builder's dream."
Full review
Customer reviews
Customer questions