NZXT Grid+ V2 Digital Fan Controller
AC-GRDP2-M1
This product has been discontinued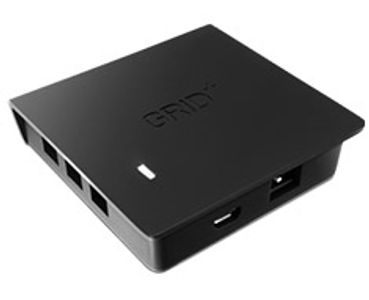 Introducing the NZXT GRID+ V2 - combine intuitive software and variable installation options for a simple, unintrusive solution for digital fan control. With CAM support, the GRID+ V2 allows you to name your fans and adjust individual fan speeds easily using versatile preset or custom fan profiles. With a power draw of up to 30W, the six fan headers inside the GRID+ V2 can accommodate 3-pin and 4-pin fans - 4-pin PWM fans are controlled by voltage regulation using the intuitive software. The minimalist, black design fits discretely in any setup, optimising cable management with easily accessible molex and micro-USB ports.
ProClockers Review
"The NZXT Grid V2+ digital fan controller sure is a step up from its predecessor Grid fan hub. I like the idea of routing all the fans into one controller and if you don't like analog fan controllers installed in 5.25-inch bays, the Grid V2+ is for you. It might not fit in all cases with its 1.8 cm thickness but it sure can be hidden elsewhere, even in the drive cage."
Full review
Think Computers Review
"If there is one thing that NZXT demonstrates again and again it's that they really know how to continue to fine tune a product. I love my fancy 5.25" bay fan controller for my main watercooled rig, but the reality is that it is basically unnecessary and wastes space when I can do the same thing with the Grid+ V2 for less money."
Full review
Customer reviews
Customer questions