TP-Link Archer C2600 AC2600 Wireless Dual Band Gigabit Router
TL-ARCHER-C2600
This product has been discontinued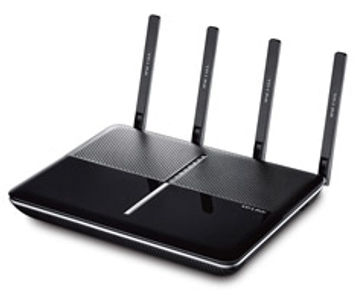 The TP-Link Archer C2600 AC2600 Wireless Dual Band Gigabit Router reaches the fastest max speeds available over its 2.4GHz (800Mbps) and 5GHz (1733Mbps) bands. Operating 3x faster by running MU-MIMO to serve multiple devices at once instead of one at a time, the Archer C2600 multi-tasks without slowing down. A powerful 1.4GHz dual-core processor lets you smoothly surf, stream, and game at the same time, utilising maximum range. The 4 dual band detachable high performance antennas provide maximum omni-directional wireless coverage with beamforming technology. Experience the TP-LINK Tether App to access and manage the router on your iOS and Android devices anytime, anywhere.
Small Net Builder Review
"The Archer C2600's MU-MIMO performance is the best example I've seen yet of how MU-MIMO is supposed to work. All scenarios and all connections showed improvement with MU-MIMO enabled, even in the toughest multi-room test."
Full review
Impulse Gamer Review
"If you need an excellent router with brilliant specs and the ability to connect a plethora of devices then the AC 2600 Wireless Dual Band Gigabit Router (Archer C2600) should definitely be on your radar."
Full review
Customer reviews
Customer questions