NZXT HUE+ RGB Lighting Kit
AC-HUEPS-M1
This product has been discontinued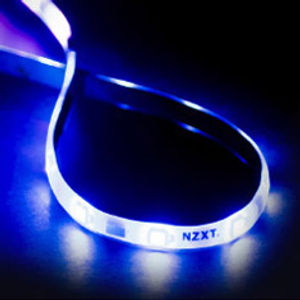 On sale! (normally $89)
The NZXT HUE+ Lighting Kit lets you light up your system like never before. It is a digitally controlled lighting solution that combines intuitive software and versatile routing options to give you unprecedented PC illumination possibilities. Using CAM software, the HUE+ includes 8 preset effects with in-depth customization. With dual-channel lighting output, each channel is capable of supporting up to 4 LED strips and can be configured to run separate effects- reactive to GPU & CPU temperatures, audio - even FPS. Backed by a 2 year NZXT warranty.
Specifications:
Hue Box Dimensions: 100 x 70 x 23.5mm
LED Strip Dimensions: 300mm x 10mm (x 4 strips)
Form Factor: 2.5in Drive Bay - USB Connection
40 LEDs (10 per strip)
Included: Screws & cable ties, 3x extension cables, 1x molex power cable, internal micro-USB cable, 500mm connection cable and 4x magnetised LED strips.
Gamers Nexus Review
"The vibrancy and color depth of the LEDs are superb, with limited lateral bleed (so the strip doesn't overly expose the metal immediately adjacent) and good lenses for component spotlighting. Depending on the enclosure, it'd be fairly easy to spotlight the faceplate of a GPU or the RAM heatsinks."
Full review
Customer reviews
Customer questions