Synology RT1900ac Wireless Dual Band Router
RT1900AC
This product has been discontinued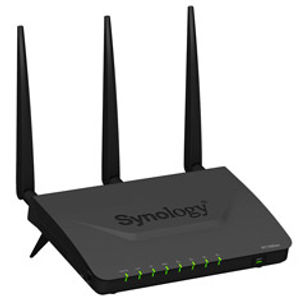 The Synology RT1900ac Wireless Router features combined dual-band data rates of up to 1900 Mbps. On the 5GHz band, 802.11ac gives 1300 Mbps wireless data rates, while Broadcom TurboQAM technology super-charges 2.4 GHz 802.11n performance from 450 Mbps to 600 Mbps with compatible devices. The RT1900 features an SD Card Reader and USB 3.0 port designed for mobile broadband hotspot functionality. When connect with a 3G/4G (LTE) USB modem, the RT1900 becomes perfect for establishing Wi-Fi in vehicles, remote locations and regions with poor wired internet infrastructure. Compatible with ADSL2/2+, ADSL, VDSL2, fiber and cable services, the Rt1900 is reliable, advanced and intuitive to use in any home or office setup.
CNET Review
"It's the user interface that really makes the Synology RT1900ac router stand out from the crowd. Traditionally the interface for home networking devices can be a bit daunting, but Synology has taken the simplistic and user friendly UI touches that have made its NAS products popular and applied them to what it calls the Synology Router Management (SRM) OS 1.0."
Full review
We Got Served Review
"Synology's RT1900ac is a bit of a TARDIS, with the small and unexciting shell concealing an expansive and powerful core. It offers solid performance and it's killer feature is the slick and attractive interface with expandable apps. Personally, I spend very little time in my current router's interface, after the initial setup I rarely return unless there are problems to deal with. Synology could change this, offering a lightweight home server that can manage downloads, network user authentication, security, file storage, and VPN access."
Full review
Customer reviews
Customer questions