Samsung 950 Pro 256GB M.2 SSD
MZ-V5P256
This product has been discontinued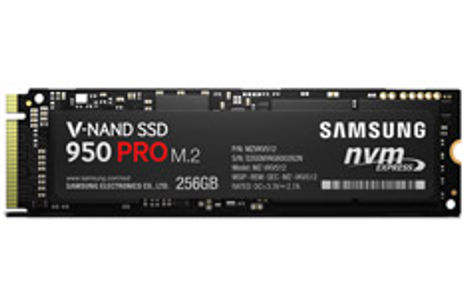 If you're a heavy workload professional searching for an SSD with uncompromising power and performance, look no further. Presented in a compact M.2 form factor, the future-oriented 950 Pro Series delivers a sequential read speed of up to 2,200MB/s and sequential write speeds of up to 900MB/s. This cutting-edge V-NAND-based NVMe SSD outperforms SATA SSDs by over 4.5 times in sequential read and by over 2.5 times in sequential write, making it the perfect solution for professionals using high-end PCs and workstations. The Samsung 950 Pro supports PCI Express Gen 3 x4 lanes, which provides a higher bandwidth and lower latency to process a massive amount more data than SATA SSDs. Equipped with the enhanced bandwidth of the NVMe interface, the 950 Pro Series is ideal for intensive workloads, top level performance, graphic design, data analysis and engineering simulations.
Tom's Hardware Review
"The Samsung 950 Pro sets a new bar for high performance storage and brings it to market at a low price point. The m.2 form factor is elegant, powerful, and the right price for Z97, X99 and Z170 motherboard owners."
Full review
PC Perspective Review
"The Samsung 950 PRO is an outstanding performer that can fit almost anywhere. Highly recommended for anyone with an M.2 equipped system!"
Full review
ARS Technica Review
"There's no getting around the fact that the 950 Pro's transfer speeds completely dominate both 2.5-inch SATA SSDs and most other consumer PCIe storage devices. If you have a computer with an M.2 slot, a 950 Pro makes a nice, if not essential upgrade."
Full review
Customer reviews
Customer questions