Thermaltake Core P5 Open Frame Chassis
CA-1E7-00M1WN-00
This product has been discontinued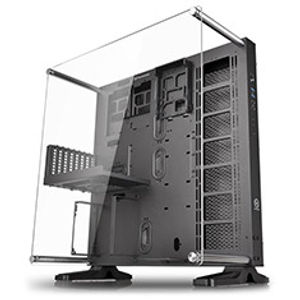 On sale! (normally $189)
The Thermaltake Core P5 Open Frame chassis features a fully modular design and a large acrylic window allowing you to show off your system in style. It is designed for use in three different orientations: wall-mounted, vertical, or horizontal and is built for customisation that reflects the makers' personality. Featuring extensive water-cooling support and outstanding cooling performance, the Core P5 is the ultimate open frame case.
Bit-tech
"The build quality is excellent, if a little rough round the edges in places, but the sheer weight and solid feel of the chassis leaves you in no doubt that it's up to the task of housing a large, high-end water-cooled system"
Full review
Think Computers
"The Core P5 is quite flexible and can hold a lot of hardware. You have room for motherboards up to ATX, long graphics card, at least 4 hard drives, a ton of watercooling and more!"
Full review
Customer reviews
Customer questions