Logitech G633 Artemis Spectrum RGB 7.1 Gaming Headset
981-000606
This product has been discontinued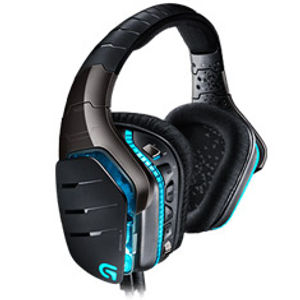 Experience games like never before with the Logitech G633 Artemis Spectrum headset. The 7.1 Dolby Surround Sound delivers superior sound performance with the latest Pro-G audio driver technology - the expansive cinematic sound delivers incredible fidelity. Compatible with all gaming consoles, mobile devices as well as PC/Mac computers, the stunning G633 boasts RGB lighting effects with customisable zones and glow patterns to suit your style. Program three G-Keys located on the ear cup for quick access on the go - perfect for audio and gaming without stopping what you're doing. The noise-cancelling microphone delivers crystal clear audio, and can be folded away when not in use and becomes nearly invisible. Purpose-built for long gaming sessions, the G633 Artemis Spectrum gives you the advantage when you need to play like a pro.
Legit Reviews
"The Logitech G633 Artemis Spectrum commands an enthusiast gamer pricing on a headset with impressive RGB lighting tacked on more modest high-end sound quality and features. As far as RGB gaming headsets go, the G633's has little competition."
Full review
Hardcore Gamer Review
"Logitech has a winner on their hands with the G633 Artemis Spectrum. Looking from the outside, it's a beautifully crafted headset, containing a stylish design that looks like it was pulled from the future. It certainly helps that the microphone blends right into the design of the headset itself and the RGB lighting makes it a visual marvel."
Full review
US Gamer Review
"I can carry the G633 with me from device to device and place to place. On the PC, I default to USB and Logitech's software for my sound. On the Xbox One and PS4, I can plug it directly into the controllers - I've moved from multiple headsets to a single model."
Full review
Customer reviews
Customer questions