XFX XTS Series Platinum 1000W Modular Power Supply
P1-1000-BELX
This product has been discontinued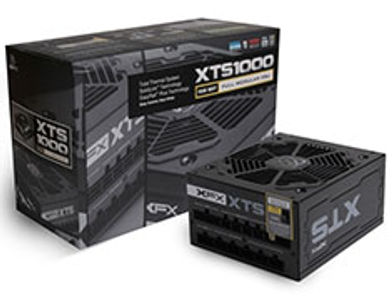 The XFX XTS Series 1000W Platinum power supply is an energy efficient 80 Plus Platinum certified PSU that combines superior energy efficiency, great performance, innovative design, and the high quality required by hardcore gamers and DIY enthusiasts as it is designed specifically for multi-GPU systems. Advanced EasyRail technology allows you to run power-hungry components, such as a CPU and GPU, without worrying about individual rail limits. Enjoy first-class reliability and stability with 105C Japanese capacitors. Backed by a 5 year XFX warranty.
Features:
EasyRail Plus Technology allowing plenty of Wattage headroom to handle your devices
Hybrid Fan Control allowing the power supply to operate silently until it reaches 20 percent load or 25 degrees
AMD Radeon CrossFire Ready
NVIDIA GeForce SLI Ready
Ultra Ventilation - grid structure
Conductive Polymer Aluminum Solid Electrolytic Capacitors
Active Power Factor Correction (99% PF Typical)
True Wattage Guarantee
80 Plus Platinum certified 92% power efficiency
AnandTech
"With a very high efficiency and low ripple during all loads, XFX delivers a high-end power supply without any noteworthy flaws. The unique case design may require some getting used to for some customers, but the thick-walled sides prevent electromagnetic interference and some customers will certainly like the bit of flare it adds in a windowed box."
Full review
Customer reviews
Customer questions