EK Predator 360 AIO Expandable Liquid CPU Cooler
3831109863350
This product has been discontinued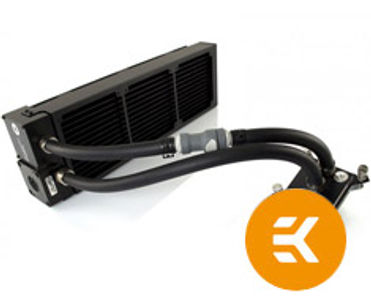 Rev1.1. The EK-XLC Predator 360 is pre-filled and pre-assembled CPU liquid cooling unit that provides extreme cooling performance unseen in the AIO (all-in-one) segment so far. It uses EK-Vardar high static pressure fans in combination with PWM controls to provide minimal noise footprint and performance on deman. It utilises industry standard G1/4 threaded ports and 10/16mm Zero Maintenance rubber tubing (EK-ZMT) and is fully expandable with all custom loop gear available from EK.
The Predator 360 features an integrated Quick Disconnect (QDC) special connector that allows quick and tool-less expansion of the system without the need for draining of the unit. This allows users to add, for example, a prefilled QDC-enabled GPU water block. If you are more extreme user, you can take the whole unit apart and rebuild it as you wish. Instructions how to drain and fill the unit are part of the instruction manual.
Guru3D Review
"Once you need the extra cooling capacity with a CPU+GPU combo, that's where the Predator 360 will make a lot of sense. No matter how you stress or overclock is, you will remain impressed by the cooling performance and low noise levels. While I understand it is hard to explain the price-premium I can say that it will be worth that money with the great build quality EK offers here, this kit just oozes and breathes quality. It will not and cannot disappoint, at this stage I cannot even compare it to the AIO kits anymore as it so much more than that. It is that good."
Full review
Customer reviews
Customer questions