Acer XB280HK 28in 4K G-Sync Widescreen Gaming Monitor
XB280HK(UM.PB0SA.002)
This product has been discontinued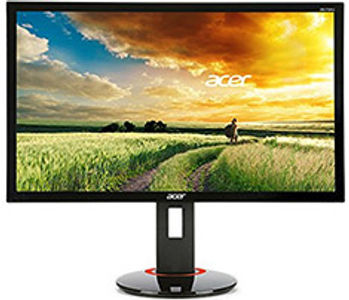 The Acer XB280HK 4K G-SYNC gaming monitor features a 28 inch display with a 16:9 3840x2160 resolution, 1000:1 (ACM) contrast ratio, 1ms response time, a 60Hz refresh rate and NVIDIA's G-SYNC technology which presents stunning high quality detail and a super smooth motion giving you a serious competitive edge. Backed by a 3 year Acer warranty.
PC Mag Review
"You'll need a powerful graphics engine to run complex games at 3840x2160, but the payoff is ultra-smooth gameplay with no tearing, stuttering, or noticeable lag and a large screen filled with exquisite image detail."
Full review
AnandTech Review
"From a user interface perspective, the Acer XB280HK hits all the right notes. The stand is very adjustable while the controls are easy to use."
Full review
Customer reviews
Customer questions