be quiet! Dark Power Pro 11 1000W Power Supply
BN854
This product has been discontinued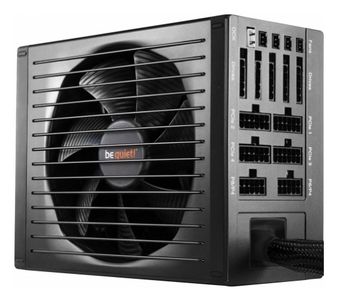 Limit 1 per customer.
The Be Quiet! Dark Power Pro 11 delivers 1000W with 80PLUS Platinum efficiency, effortless Quad-GPU support and unmatched silence. It features a virtually inaudible SilentWings 3 135mm fan with a fluid-dynamic bearing, intelligent control for up to 4 case fans and user friendly cable management to reduce clutter and improve cooling. Backed by a 5 year Be Quiet warranty.
Tom's Hardware Review (850W Version)
"The Dark Power P11-850 is a good PSU that will please those with high-end PCs who want the quietest PSU money can buy."
Full review
Kitguru Review (850W Version)
"Technically, the Dark Power Pro 11 850W delivers the goods. Ripple suppression passed all the tests, and load regulation could be classed as very close to class leading. Efficiency rated at just over 94 percent at close to 50 percent load, which is magnificent... The be quiet! Dark Power Pro 11 850W is a fantastic power supply well suited for a new high end system build."
Full review
Guru3d Review (850W Version)
"This is the flagship product series from Be Quiet! and they have made sure all the boxes are ticked and all variables are done right. The PSU excels in stability, low noise level and efficiency. It is an impressive power supply from A to Z and we can't really find anything that concerns us."
Full review
Customer reviews
Customer questions