Intel 750 PCI-Express 400GB SSD
SSDPEDMW400G4X1
This product has been discontinued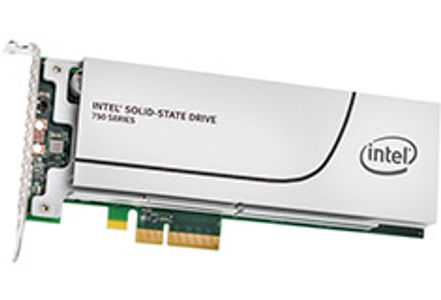 On sale! (normally $439)
The Intel 750 Series is Intel's latest SSD for the high performance client and workstation storage market. It features a 400GB capacity, up to 2200MB/s sequential read and 900MB/s sequential write and 1.2 million hours MTBF for the ultimate reliability. Intel SSD 750 Series delivers the future of storage today with Intel's first PCIe based consumer SSD, combining four lanes of PCIe 3.0 with state-of-the-art NVM Express (NVMe) interface for truly amazing performance.
Performance measured by Intel. Test and System Configuration: Processor: Intel Core i7-4790K, Speed: 4.0 GHz, Chipset: Intel Z97, Motherboard: ASUS z97-Deluxe, DRAM capacity: 4GB, DRAM Speed: DDR3 2133 MHz, OS: Windows 8.1.
Important!
The Intel 750 Series PCI-Express SSD's require NVM Express interface specification. Please check that your motherboard supports this before purchase!
Hot Hardware Review
"The Intel SSD 750 performed remarkably well with basically any benchmark metric we threw at it... Literally, at every turn the SSD 750 impressed us, with top-rated best-of-class performance, no matter the workload."
Full review
PC Perspective Review (1.2TB Version)
"This SSD breathes fire and doesn't break the bank while doing so. For the fastest consumer SSD out there, the Intel SSD 750 is a no-brainer decision."
Full review
AnandTech Review
"All in all, the SSD 750 is definitely a product I recommend as it's the fastest drive for IO intensive workloads by a large margin... If your IO workload needs the storage performance of tomorrow, Intel and the SSD 750 have you covered today."
Full review
Customer reviews
Customer questions