BenQ RL2755HM 27in LED Gaming Monitor
RL2755HM
This product has been discontinued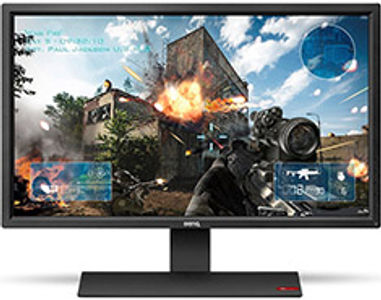 Every detail about the BenQ RL2755HM screams out perfection for gaming – even when it comes to storage for your gaming gear. The next-generation angular, compact base stand has been enhanced with slip-resistant rubber finish on the inner side to effectively grip your controller, so you can easily tuck it away and out of the way after each game. The RL2755HM features built-in speakers for outstanding audio output, a retractable headphone hook on the side of the monitor, and a cord organiser behind the monitor, dual HDMI ports, ultra fast 1ms GTG response time, Black eQualizer and image quality supported by BenQ's world-leading colour expertise. So you can stay fiercely competitive while enjoying total gaming satisfaction.
Display Lag Review
"The RL2755HM is a noticeable jump from the previous RL2455HM model in both picture quality and size, and would make a great addition to any desktop gaming setup."
Full review
Tom's Guide Review
"The BenQ RL2755HM is exactly what it sets out to be: a highly responsive 1080p monitor with good image quality and a wealth of customization options for a reasonable price tag. Its impressive low latency and highly tweakable settings will satisfy competitive gamers, and its dual HDMI ports and handy controller and headset docks are great extra touches."
Full review
Customer reviews
Customer questions