Elgato Game Capture HD
1GC108801000
This product has been discontinued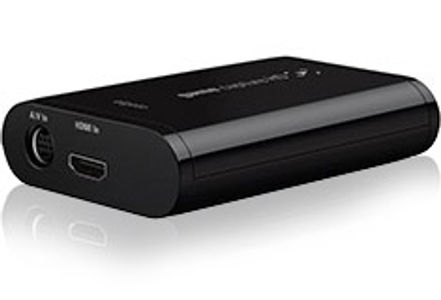 The gaming experience is all about sharing. Record and stream your Xbox, PlayStation or Wii U gameplay and share your journey with friends, fans and generations to come. With direct PlayStation 4, Xbox One, Xbox 360, PlayStation 3 and Wii U input, you can use a single cable to connect it to your console. The Elgato Game Capture HD features built-in live streaming feature that gets you up and running on Twitch, YouTube or Ustream in a snap, add your webcam and overlays, change your stream layout on-the-fly with scenes and add your voice with the built-in Live Commentary feature, and you're all set for the big show.
Touch Arcade Review
"You need a Game Capture HD, yesterday. What used to take me hours now takes me minutes. I could just cry tears of sheer joy. Thank you, Elgato."
Full review
Destructoid Review
"If you're thinking about getting into the video side of the gaming world and hate all of the technical aspects that come along with it, the Elgato Game Capture HD is a really solid option. Between the ease of use of the software and the simplicity of the device, pretty much anyone can record a bit of gameplay and have it up for the world to see."
Full review
Customer reviews
Customer questions