Audio-Technica ATH-SPORT3 Black In-Ear Sport Headphones
ATH-SPORT3-BK
This product has been discontinued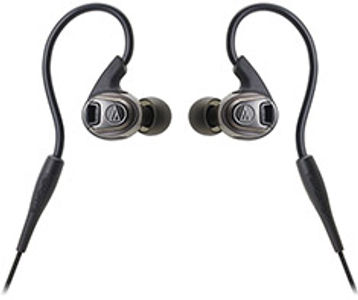 The top of the range Audio-Technica SPORT3 is designed for the serious athlete who demands prolonged comfort and a high level audio performance to soundtrack their intense workouts. Featuring a flexible but secure ear hanger design and soft silicone housing for added comfort, these in-ear headphones sport 10mm drivers that deliver dynamic and detailed fidelity. To control the air flow and produce rich bass sounds when out running, a waterproof IXP5-certified duct has been fitted along with integrated stabilisers to minimise any sonic distortion. The ATH-SPORT3 comes with active-fit ear tips (S/M/L) and a carrying case.
Gadget Reviewed Review
"Overall quality of the headphone is aces up in my book... it provides amazing sound quality, impressive bass and perfect fit. And to add, it's water-proof and sweat-proof abilities make it the perfect model to go for, especially for the users who require listening to music while working out and exercising."
Full review
Customer reviews
Customer questions