Deepcool M6 17in Notebook Cooler with 2.1 Speakers & 4x USB
NB-M6-BK
This product has been discontinued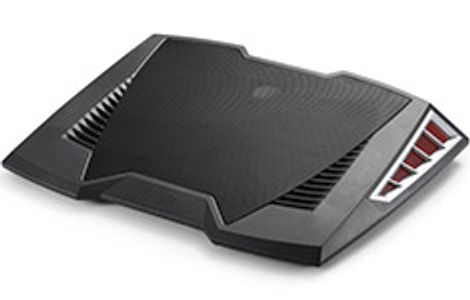 The Deepcool M6 17in Notebook Cooler features a 2.1 speaker system with excellent stereo sound (2 tweeter & 1 woofer), plug-and-play with standard 3.5mm line in for easy access to any music source, a 14cm fan for optimal airflow to cool your gaming notebook with adjustable speed for a perfect balance between cooling performance and quietness, and a USB Hub with 4x USB ports for your additional USB devices.
Pure Overlock Review
"When it comes to the cooling and the 2.1 sound system built into the M6, there just isn't anything that can compete. No other notebook cooler that I am aware of has both solutions built-in like this."
Full review
Pro Clockers Review
"The audio quality was superb than that of my Sony laptop. The high notes were well represented while the lows were a little lacking but not by much. Then the volume level was twice powerful than those of the laptop's default speakers. This was enough to conclude that the M6 is a great product because listening to music on my laptop was not really enjoyable."
Full review
Customer reviews
Customer questions