SteelSeries Apex M800 Mechanical RGB Gaming Keyboard
SS-64170
This product has been discontinued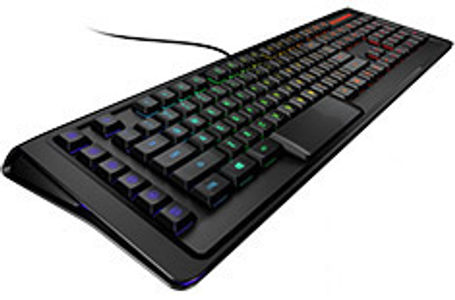 The tournament-grade SteelSeries Apex M800 is the world's fastest and most programmable mechanical gaming keyboard. It gives you the quick response and personal control to master your favourite games. The newly-engineered SteelSeries QS1 Switch, the low-profile layout of the keyboard and dual processors all help to ensure swift transitions between keys, minimal finger fatigue and consistently fast key strikes.
Features:
Competition-grade mechanical QS1 Switch has a 60 million click lifetime, linear design and smooth feel
3mm throw depth, with a 1.5mm actuation and reset depth – lowest and quickest switch on the market
Clear switch housing and centred LED light delivers vibrant, evenly distributed illumination without excessive light bleed between the keys
Low-profile design, quicker key presses, and densely packed keycaps deliver optimal gaming ergonomics with less finger fatigue
Supports the simultaneous pressing of all keys in game mode in addition to zero ghosting
Onboard dual processors: One dedicated entirely for managing keystrokes, the other for everything else
Integrated, powered USB 2.0 hub for additional connectivity
Illumination continues along the sides of the keyboard, surrounding the side plates
Brilliant 16.8 million colour individually illuminated keys, full RGB LED, with 8 brightness levels
Detailed customisation and control over Apex M800 with SteelSeries Engine
APH Networks
"It's amazing lighting system goes beyond just eye candy. Stuff like Cooldown Timers and GameSense adds a whole new layer of user experience to your gaming setup. Simply put, the Apex M800 is brilliant, and quite literally, too. Besides its advanced illumination options, SteelSeries' latest mechanical keyboard is both show and go at the same time."
Full review
Customer reviews
Customer questions