be quiet! Pure Rock CPU Cooler
BK009
This product has been discontinued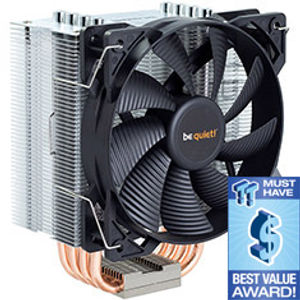 The Be Quiet! Pure Rock CPU Cooler's compact design is compatible with all current Intel and AMD sockets and fits well into tight spaces. The Pure Rock features excellent cooling efficiency, a compact design and a 9 blade silence optimised 1200 Be Quiet! PWM fan with high quality sleeve bearing optimised for quietness and optimum cooling performance.
TweakTown
"It is rare recently that we see many coolers that don't cost in excess of $50, so for be quiet! to come from the high-end price range in what we are used to seeing with their coolers, and offering the average Joe a shot at their style and what it is to use a be quiet! CPU cooler, it's quite good."
Full review
Neoseeker
"...the performance makes the Pure Rock an excellent choice for any computer user or enthusiast."
Full review
Customer reviews
Customer questions