Audio-Technica ATH-MSR7 Premium Hi-Res Headphones Black
ATH-MSR7-BLK
This product has been discontinued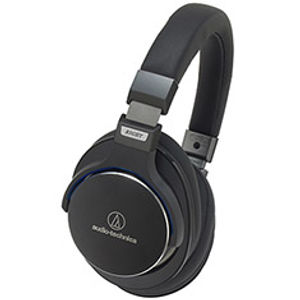 On sale! (normally $249)
The Audio-Technica ATH-MSR7 Premium Hi-Res Headphones combines pro-grade sonic skills with the latest in premium design, these headphones model a discreet but stylish profile while boasting new audio technology, mastered by years of research through helping professional musicians and producers get the perfect sound since 1962.
Designed for listening at home and on-the-go, the MSR7 headphones are the ultimate in comfort. Soft memory-foam ear pads fit securely and snugly around the ears, maximising comfort during long listening sessions, alongside Audio-Technica technology developed over 40-years of designing monitor headphones for producers, studios and musicians which minimises listener fatigue – crucial when enjoying new high resolution audio formats on the latest music players and smartphones. The housing has also been specially shaped with ear-profiled grills to 'mirror' the whole ear and enhance the rich, lower end sounds, while the highly flexible swivel design helps to find the most comfortable fit instantly.
Features:
45mm 'True Motion' Hi-Res audio driver
Cable: 1.2 m, 3.0m and 1.2m with mic for smartphones
Triple-venting acoustic airflow design
Layered metal structure to reduce unwanted resonance
Soft memory foam earpads for long-term listening comfort
Unique Dual-layer Air-control technology controls the air stream in the housings
Digital Versus Review
"There's no mistaking the ATH-MSR7's heritage. Inspired by the professional and mass-market sectors, it's managed to blend the best of both."
Full review
Head-Fi Review
"Overall, I would seriously consider MSR7 to be my new favorite pair of full size headphones with a design, a style, and a sound quality which hits a sweet spot in my book."
Full review
Customer reviews
Customer questions