MSI GS30 Shadow 13.3in Core i7 Gaming Notebook [2M-062AU] Bundle
zzzGS30-2M-062AU
This product has been discontinued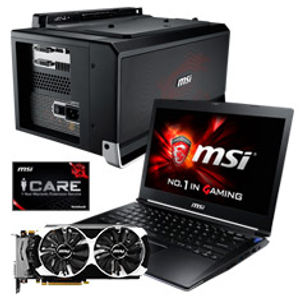 The MSI GS30 Shadow Gaming Notebook features an Intel Core i7 4870HQ processor, 16GB DDR3 memory, 13.3in 1920x1080 anti-glare display, Intel Iris Pro 5200 graphics, Super Raid 256GB SSD (M.2 SATA), Bluetooth 4.0, Gigabit LAN, 4 cell battery, Windows 8.1 and more. The GamingDock for GS30 is equipped with 2z 5W Speakers, 5W Woofer, Killer Gigabit LAN and 4x USB 3.0, Mic and Headphone ports, support for external LCD and 3.5in SATA hard drives. Backed by a 2 year MSI warranty.
Hardware Zone Review
"The MSI GS30 2M Shadow is a pretty impressive piece of hardware. We like the versatility and choice given to its users and so far, it fulfills both the roles it set out to do (a lightweight portable notebook and a desktop gaming machine) pretty well. So if you're looking for something that could cater to both business... and gaming needs, the MSI GS30 2M Shadow definitely deserves a consideration."
Full review